Products - Technical secondary frame
WE LOOK TO THE FUTURE
Looking to the future for us means finding innovative solutions with a high technological content and, at the same time, that are sensitive to environmental needs.
This is why we have created the Tecnico fastening system. This is a mechanical system that's safe and quick. Thanks to it, Tecnico ensures clients with installation, making the worksite immediately accessible and with firm costs.
The positioning of the bracket during the construction of partitions is the only cost to the company, and it prevents:

breaking the wall to create anchoring inserts
creating support points for the secondary frame to correctly dimension it
production of debris and masonry rubble
worksite clean-up when installation is complete
elimination of microscopic cracks which are often produced in the final plaster at the anchor points.
POSITIONING THE SECONDARY FRAME
1st phase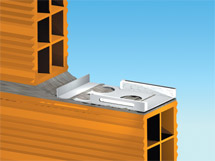 BRACKET PLACED IN CONCRETE
The Tecnico bracket is sunken into the mortar between perforation and perforation in the construction of the wall, and flush with it.
2nd phase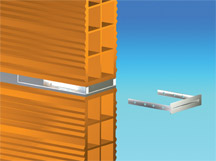 INSERTION OF U-BOLTS
Three U-bolts are inserted per side.
3rd phase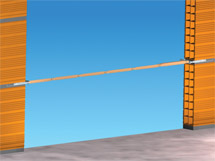 CLEARANCE
Adjustment of the two lower U-bolts based in the maximum clearance of the secondary frame.
4th phase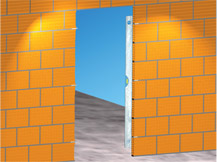 VERTICAL POSITIONING
The U-bolts are adjusted so they are perfectly vertical to one another, due to their movement when they are inserted in the bracket.
5th phase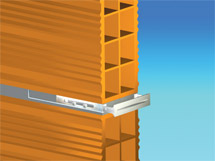 FASTENING OF THE U-BOLTS WITH SCREWS
The U-bolts are fastened with the four side screws.
6th; phase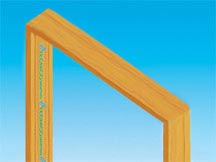 PRE-INSTALLATION OF SECONDARY FRAME
The pressed corners ensure a 90° angle and outstanding speed of pre-installation.
7th phase
FASTENING
The secondary frame is screwed into the U-bolts, ensuring that it is perfectly vertical and correctly dimensioned.
8th phase
INSTALLATION
Secondary frame properly installed with the TECNICO system.
8th phase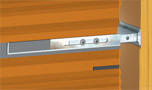 DETAIL
Example of adaptability to any kind of wall.