Products - Ecological secondary frame
WE LOOK TO THE FUTURE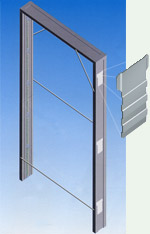 Looking to the future for us means finding innovative solutions with a high technological content and, at the same time, that are sensitive to environmental needs.
This is why we have created the ECOLOGICO?secondary frame. Made of recycled plastic, it combines non-deformability and exceptional hold of screws and nails with environmental protection, thanks to the use of recycled material instead of wood. So that tomorrow our environment and that of our children will be better.
Some of the problems normally associated with wood secondary frames, which are discovered when the doors are installed, include alterations in quality, dimension, thickness and width, due to variations in humidity. This leads to modification of the secondary frame, which must be planed on the front and sides, and at times completely removed. With our ECOLOGICO secondary frame, these issues are no longer a cost the company needs to bear.
TYPES OF INSTALLATION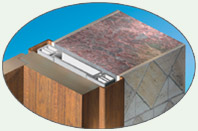 Traditional installation with wings
The wing of the secondary frame allows traditional installation.
The hold of screws and nails for installation of the fixture is ensured by the internal profile of the extruded piece.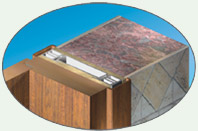 Installation with polyurethane foam
The external contour of the drawn piece allows excellent anchoring of the polyurethane foam, both between the body of the door and the secondary frame, and between the secondary frame and the masonry.